Nissan Sentra Service Manual: Electric ignition system
ELECTRIC IGNITION SYSTEM : System Description
SYSTEM DIAGRAM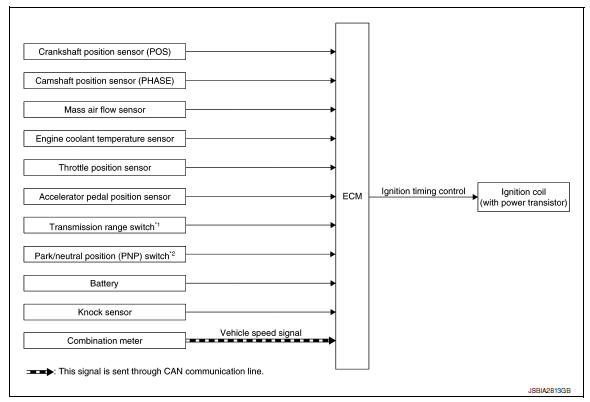 *1: CVT models
*2: M/T models
Input/output signal chart
Sensor
Input Signal to ECM
ECM function
Actuator
Crankshaft position sensor (POS)

Engine speed*3
Piston position

Ignition timing control
Ignition coil (with power transistor)
Camshaft position sensor (PHASE)
Mass air flow sensor
Amount of intake air
Engine coolant temperature sensor
Engine coolant temperature
Throttle position sensor
Throttle position
Accelerator pedal position sensor
Accelerator pedal position
Transmission range switch*1
Gear position
Park/neutral position (PNP) switch*2
Battery
Battery voltage*3
Knock sensor
Engine knocking condition
Combination meter
CAN communication
Vehicle speed signal
*1: CVT models
*2: M/T models
*3: ECM determines the start signal status by the signals of engine speed and battery voltage.
SYSTEM DESCRIPTION
Firing order: 1 - 3 - 4 - 2
The ignition timing is controlled by the ECM to maintain the best air-fuel ratio for every running condition of the engine. The ignition timing data is stored in the ECM.
The ECM receives information such as the injection pulse width and camshaft position sensor (PHASE) signal.
Computing this information, ignition signals are transmitted to the power transistor.
During the following conditions, the ignition timing is revised by the ECM according to the other data stored in the ECM.
At starting
During warm-up
At idle
At low battery voltage
During acceleration
The knock sensor retard system is designed only for emergencies. The basic ignition timing is programmed within the anti-knocking zone, if recommended fuel is used under dry conditions. The retard system does not operate under normal driving conditions. If engine knocking occurs, the knock sensor monitors the condition.
The signal is transmitted to the ECM. The ECM retards the ignition timing to eliminate the knocking condition.
MULTIPORT FUEL INJECTION SYSTEM : System Description SYSTEM DIAGRAM *1: ECM determines the start signal status by the signals of engine speed and battery voltage. *2: M/T models *3: CVT mod ...
INTAKE VALVE TIMING CONTROL : System Description SYSTEM DIAGRAM INPUT/OUTPUT SIGNAL CHART Sensor Input signal to ECM ECM function Actuator Crankshaft position sensor (P ...
Other materials:
Manual transmission (if so equipped)
The ignition switch includes a device that helps prevent accidental removal of the key while driving. The key can only be removed when the ignition switch is in the LOCK position. On manual transmission models, to turn the ignition key to LOCK position from ACC or ON position, turn the ...
Troubleshooting guide
Symptom Possible Cause When pushing the ignition switch to stop the engine The P (Park) warning light in the instrument panel illuminates and the inside chime sounds continuously. The shift lever is not in the P (Park) position. Make sure that the shift ...
Aluminum alloy wheels
Wash the wheels regularly with a sponge dampened in a mild soap solution, especially during winter months in areas where road salt is used. If not removed, road salt can discolor the wheels. CAUTION Follow the directions below to avoid staining or discoloring the wheels: Do not use a clean ...
В© 2014-2020 Copyright www.nisentra.com