Nissan Sentra Service Manual: Electric ignition system
ELECTRIC IGNITION SYSTEM : System Description
SYSTEM DIAGRAM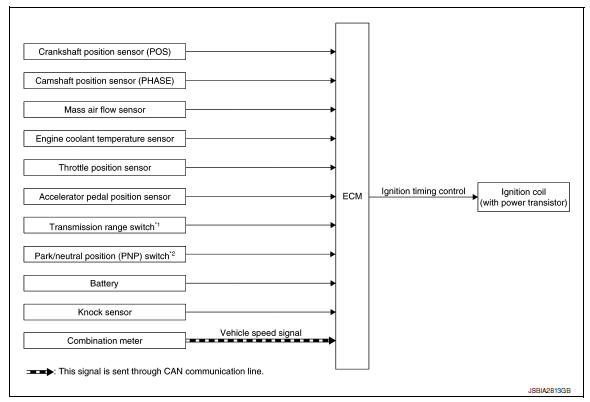 *1: CVT models
*2: M/T models
Input/output signal chart
Sensor
Input Signal to ECM
ECM function
Actuator
Crankshaft position sensor (POS)

Engine speed*3
Piston position

Ignition timing control
Ignition coil (with power transistor)
Camshaft position sensor (PHASE)
Mass air flow sensor
Amount of intake air
Engine coolant temperature sensor
Engine coolant temperature
Throttle position sensor
Throttle position
Accelerator pedal position sensor
Accelerator pedal position
Transmission range switch*1
Gear position
Park/neutral position (PNP) switch*2
Battery
Battery voltage*3
Knock sensor
Engine knocking condition
Combination meter
CAN communication
Vehicle speed signal
*1: CVT models
*2: M/T models
*3: ECM determines the start signal status by the signals of engine speed and battery voltage.
SYSTEM DESCRIPTION
Firing order: 1 - 3 - 4 - 2
The ignition timing is controlled by the ECM to maintain the best air-fuel ratio for every running condition of the engine. The ignition timing data is stored in the ECM.
The ECM receives information such as the injection pulse width and camshaft position sensor (PHASE) signal.
Computing this information, ignition signals are transmitted to the power transistor.
During the following conditions, the ignition timing is revised by the ECM according to the other data stored in the ECM.
At starting
During warm-up
At idle
At low battery voltage
During acceleration
The knock sensor retard system is designed only for emergencies. The basic ignition timing is programmed within the anti-knocking zone, if recommended fuel is used under dry conditions. The retard system does not operate under normal driving conditions. If engine knocking occurs, the knock sensor monitors the condition.
The signal is transmitted to the ECM. The ECM retards the ignition timing to eliminate the knocking condition.
MULTIPORT FUEL INJECTION SYSTEM : System Description SYSTEM DIAGRAM *1: ECM determines the start signal status by the signals of engine speed and battery voltage. *2: M/T models *3: CVT mod ...
INTAKE VALVE TIMING CONTROL : System Description SYSTEM DIAGRAM INPUT/OUTPUT SIGNAL CHART Sensor Input signal to ECM ECM function Actuator Crankshaft position sensor (P ...
Other materials:
Removal and installation
Ipdm e/r Exploded view Ipdm e/r IPDM E/R cover A Ipdm e/r cover b Removal and installation Caution: Ipdm e/r integrated relays are not serviceable and must not be removed from unit. Removal Remove inlet air duct (upper). Refer to em-25, "removal and installation" ...
Glass lid
Exploded view Glass lid Roof panel Front Removal and installation Removal Caution: After installing glass lid, check gap/height adjustments and operation to make sure there is no malfunction. Handle glass lid with care to prevent damage. Open sunshade (1), then close ...
Abbreviations
Abbreviation List The following ABBREVIATIONS are used: A ABBREVIATION DESCRIPTION A/C Air conditioner A/C Air conditioning A/F sensor Air fuel ratio sensor A/T Automatic transaxle/transmission ABS Anti-lock braking sys ...
В© 2014-2018 Copyright www.nisentra.com