Nissan Sentra Service Manual: Front door glass
Removal and Installation
REMOVAL
WARNING:
Before servicing, turn ignition switch OFF, disconnect both battery terminals and wait at least three minutes.
Do not use air tools or electric tools for servicing.
NOTE:
LH front door panel shown; RH side similar
Disconnect the battery positive and negative terminal. Refer to PG-50, "Removal and Installation (Battery)".
Remove the front door finisher. Refer to INT-15, "Removal and Installation".
Remove the vapor barrier.
CAUTION:
Use care to not damage or tear vapor barrier during removal.
Temporarily reconnect both battery terminals and the main power window and door lock/unlock switch (LH door) or power window and door lock/unlock switch (RH door) to raise/lower the door glass until the door glass bolts can be seen through the access holes.
Remove the front door regulator to glass bolts (A).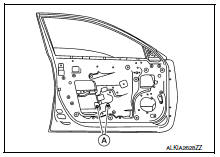 While holding the front door glass, raise it at the rear end to pull the front door glass out of the sash toward the outside of the door.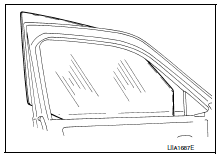 INSTALLATION
Installation is in the reverse order of removal.
FRONT DOOR GLASS INSPECTION AFTER INSTALLATION
Check that the door glass is securely set into the glass run groove.
Lower the door glass slightly [approximately 10 to 20 mm (0.4 to 0.8 in)] and check that the clearance to the sash is parallel. If the clearance between the door glass and sash is not parallel, loosen the regulator bolts, guide rail bolts, and door glass and guide rail bolts to correct the glass position.
Inspection and Adjustment
SYSTEM INITIALIZATION (IF NECESSARY)
If any of the following occur, system initialization must be performed.
Electric power supply to power window switch or motor is interrupted by blown fuse or disconnecting battery cable, etc.
Removal and installation of the regulator assembly.
Removal and installation of the motor from the regulator assembly.
Removal and installation of the harness connector of the power window switch.
Operation of the regulator assembly as a unit.
Removal and installation of the door glass.
Removal and installation of the door glass run.
Window is partly opened and or closed multiple times with out being fully closed.
To perform system initialization, refer to PWC-29, "Work Procedure".
INSPECT THE FUNCTION OF THE ANTI-PINCH SYSTEM.
To inspect the anti-pinch system, refer to PWC-29, "Work Procedure".
Exploded View Windshield glass molding Spacer Rubber dam Windshield glass Windshield insulator Front pillar finisher Instrument panel Cowl top cover Roof panel Cowl top Bo ...
Exploded View Front door panel Front door glass channel front Front door glass regulator Front door glass regulator motor Front door glass channel rear Front door glass Front door ...
Other materials:
Vehicle information
Identification information Model Variation Identification Number Vehicle identification number (VIN) plate Vehicle identification number (chassis number) Emission control information label Air Conditioner specification label F.M.V.S.S./C.M.V.S.S. certificat ...
Precaution for Work
When removing or disassembling each component, be careful not to damage or deform it. If a component may be subject to interference, be sure to protect it with a shop cloth. When removing (disengaging) components with a screwdriver or similar tool, be sure to wrap the component with a ...
Uniform tire quality grading
DOT (Department of Transportation) Quality Grades: All passenger car tires must conform to federal safety requirements in addition to these grades. Quality grades can be found where applicable on the tire sidewall between tread shoulder and maximum section width. For example: Treadwear 200 ...
В© 2014-2022 Copyright www.nisentra.com