Nissan Sentra Service Manual: Control Units and Electrical Parts
PRECAUTIONS
Never reverse polarity of battery terminals.
Install only parts specified for a vehicle.
Before replacing the control unit, check the input and output and functions of the component parts.
Do not apply excessive force when disconnecting a connector.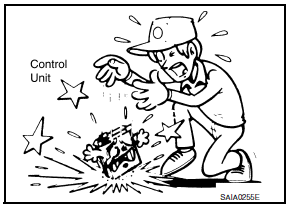 Do not apply excessive shock to the control unit by dropping or hitting it.
Be careful to prevent condensation in the control unit due to rapid temperature changes and do not let water or rain get on it. If water is found in the control unit, dry it fully and then install it in the vehicle.
Be careful not to let oil to get on the control unit connector.
Avoid cleaning the control unit with volatile oil.
Do not disassemble the control unit, and do not remove the upper and lower covers.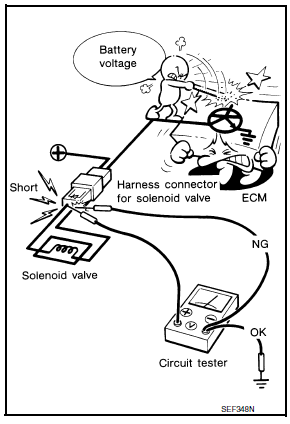 When using a DMM, be careful not to let test probes get close to each other to prevent the power transistor in the control unit from damaging battery voltage because of short circuiting.
When checking input and output signals of the control unit, use the specified check adapter.
STEP DESCRIPTION STEP 1 Get detailed information about the conditions and the environment when the incident occurred. The following are key pieces of information requi ...
CONNECTOR AND TERMINAL PIN KIT Use the connector and terminal pin kits listed below when replacing connectors or terminals. The connector and terminal pin kits contain some of the most common ...
Other materials:
A-bag branch line circuit
Diagnosis procedure Warning: Always observe the following items for preventing accidental activation. Before servicing, turn ignition switch off, disconnect battery negative terminal, and wait 3 minutes or more. (To discharge backup capacitor.) Never use unspecified tester or other ...
Key to Symbols Signifying Measurements or Procedures
...
Small children
Children that are over 1 year old and weigh at least 20 lbs (9 kg) should remain in a rear-facing child restraint as long as possible up to the height or weight limit of the child restraint. Children who outgrow the height or weight limit of the rearfacing child restraint and are at least 1 yea ...
В© 2014-2021 Copyright www.nisentra.com