Nissan Sentra Service Manual: Evaporative emission system
EVAPORATIVE EMISSION SYSTEM : System Description
SYSTEM DIAGRAM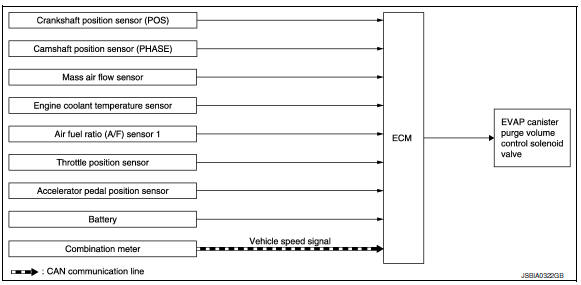 INPUT/OUTPUT SIGNAL CHART
Sensor
Input signal to ECM
ECM function
Actuator
Crankshaft position sensor (POS)
Engine speed*
EVAP canister purge flow control
EVAP canister purge volume control solenoid valve
Camshaft position sensor (PHASE)
Mass air flow sensor
Amount of intake air
Engine coolant temperature sensor
Engine coolant temperature
Air fuel ratio (A/F) sensor 1
Density of oxygen in exhaust gas (Mixture ratio feedback signal)
Throttle position sensor
Throttle position
Accelerator pedal position sensor
Accelerator pedal position
Battery
Battery voltage*
Combination meter
CAN communication
Vehicle speed signal
*: ECM determines the start signal status by the signals of engine speed and battery voltage.
SYSTEM DESCRIPTION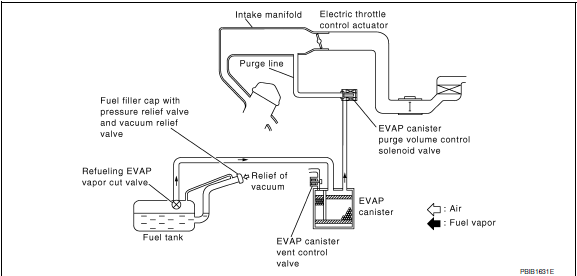 The evaporative emission system is used to reduce hydrocarbons emitted into the atmosphere from the fuel system. This reduction of hydrocarbons is accomplished by activated charcoals in the EVAP canister.
The fuel vapor in the sealed fuel tank is led into the EVAP canister which contains activated carbon and the vapor is stored there when the engine is not operating or when refueling to the fuel tank.
The vapor in the EVAP canister is purged by the air through the purge line to the intake manifold when the engine is operating. EVAP canister purge volume control solenoid valve is controlled by ECM. When the engine operates, the flow rate of vapor controlled by EVAP canister purge volume control solenoid valve is proportionally regulated as the air flow increases.
EVAP canister purge volume control solenoid valve also shuts off the vapor purge line during decelerating and idling.
STARTER MOTOR DRIVE CONTROL : System Description SYSTEN DIAGRAM *1: CVT models *2: M/T models INPUT/OUTPUT SIGNAL CHART Sensor Input signal to ECM ECM function Actuator ...
AUTOMATIC SPEED CONTROL DEVICE (ASCD) : System Description SYSTEM DIAGRAM BASIC ASCD SYSTEM Refer to Owner's Manual for ASCD operating instructions. Automatic Speed Control Device (ASCD) all ...
Other materials:
P285A Clutch B Pressure
DTC Logic DTC DETECTION LOGIC DTC CONSULT screen terms (Trouble diagnosis content) DTC detection condition Possible causes P285A CLUTCH B PRESSURE (Clutch B Pressure Disengagement Performance) The detection conditions continuously for 200 msec or more und ...
Rear drum brake
Exploded View Cap Bleeder valve Piston Spring Boot Piston cup Wheel cylinder Apply rubber grease Apply PBC (Poly Butyl Cuprysil) grease or silicone-based grease Apply brake fluid Disassembly and Assembly DISASSEMBLY Remove the boot from wheel cylinder. Refer t ...
U1001 can comm circuit
Description CAN (Controller Area Network) is a serial communication line for real time application. It is an on-vehicle multiplex communication line with high data communication speed and excellent error detection ability. Many electronic control units are equipped onto a vehicle, and each co ...
В© 2014-2020 Copyright www.nisentra.com