Nissan Sentra Service Manual: Water outlet
Exploded View
CVT MODELS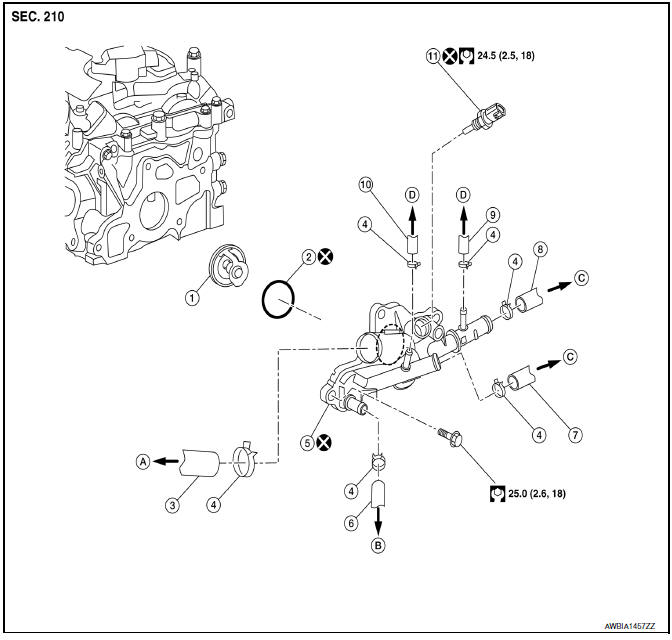 Water control valve
Rubber ring
Radiator hose (upper)
Clamp
Water outlet
CVT oil warmer hose (outlet)
Heater hose (inlet)
Heater hose (outlet)
Electric throttle control actuator hose (outlet)
Electric throttle control actuator hose (inlet)
Engine coolant temperature sensor
To filler neck
To CVT oil warmer
To heater core
To electric throttle control actuator
M/T Models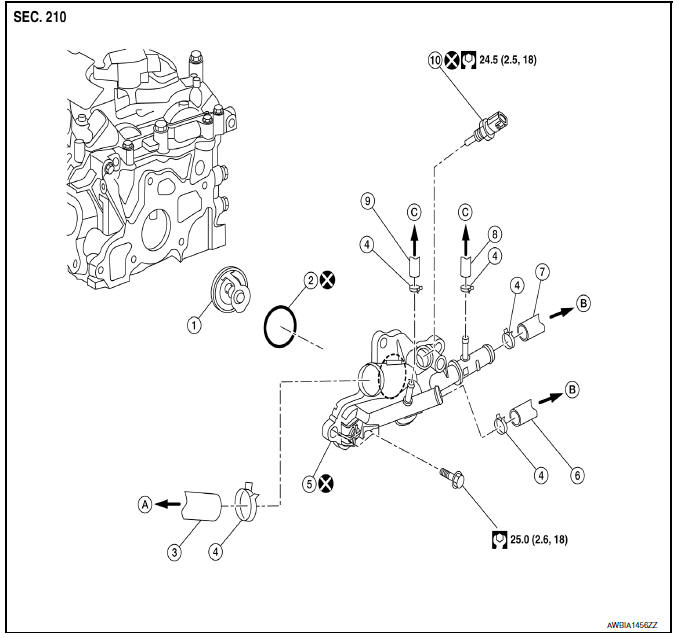 Water control valve
Rubber ring
Radiator hose (upper)
Clamp
Water outlet
Heater hose (inlet)
Heater hose (outlet)
Electric throttle control actuator hose (outlet)
Electric throttle control actuator hose (inlet)
Engine coolant temperature sensor
To filler neck
To heater core
To electric throttle control actuator
WARNING:
Do not remove the radiator cap when the engine is hot. Serious burns could occur from high-pressure engine coolant escaping from the radiator. Wrap a thick cloth around the cap. Slowly push down and turn it a quarter turn to allow built-up pressure to escape. Carefully remove the cap by pushing it down and turning it all the way.
NOTE:
When removing components such as hoses, tubes/lines, etc., cap or plug openings to prevent fluid from spilling.
Removal and Installation
REMOVAL
Remove the battery. Refer to PG-50, "Removal and Installation (Battery)".
Drain engine coolant from radiator. Refer to CO-12, "Changing Engine Coolant".
CAUTION:
Perform this step when the engine is cold.
Do not spill engine coolant on the drive belt.
Remove engine under cover. Refer to EM-24, "Exploded View".
Remove air cleaner and air duct. EM-25, "Removal and Installation".
Disconnect engine coolant temperature sensor.
Remove radiator hose (upper), water hoses and heater hoses from water outlet.
Remove water outlet bolts and remove water outlet and rubber ring with water control valve.
Remove engine coolant temperature sensor from water outlet, if necessary.
INSPECTION AFTER REMOVAL
Place a thread (A) so that it is caught in the valves of the water control valve (1). Immerse fully in a container (B) filled with water.

Heat while stirring.

The valve opening temperature is the temperature at which the valve opens and the water control valve falls from the thread.
Continue heating. Check the full-open lift amount.
NOTE:
The full-open lift amount standard temperature for the water control valve is the reference value.
After checking the full-open lift amount, lower the water temperature and check the valve closing temperature.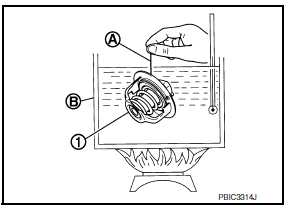 If valve setting at measured values are out of standard range, replace water control valve.
INSTALLATION
Installation is in the reverse order of removal.
Install the engine coolant temperature sensor if removed.
Use Genuine RTV Silicone Sealant or equivalent. Refer to MA-11, "Fluids and Lubricants".
CAUTION:
Do not reuse rubber-ring.
Do not reuse water outlet.
If removed, do not reuse engine coolant temperature sensor.
Install water control valve with the rubber ring (1) groove fit onto water control valve flange (A).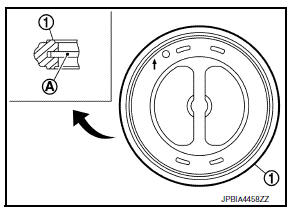 Install water control valve (2) with the arrow (A) facing up, and the frame center part (B) facing engine.
(1) : Water outlet
CAUTION:
Do not spill engine coolant in engine compartment. Use a shop cloth to absorb engine coolant.
INSPECTION AFTER INSTALLATION
After installation, refill engine coolant and check for leaks. Refer to CO-11, "System Inspection" and CO-12, "Changing Engine Coolant".
Exploded View Thermostat housing Gasket Rubber ring Thermostat Water inlet Clamp Radiator hose (upper) To radiator WARNING: Do not remove the radiator cap when the engin ...
Periodical Maintenance Specification ENGINE COOLANT CAPACITY (APPROXIMATE) Radiator Thermostat Water Control Valve ...
Other materials:
P0078 EVT Control solenoid valve
DTC Logic DTC DETECTION LOGIC DTC No. CONSULT screen terms (Trouble diagnosis content) DTC detecting condition Possible cause P0078 EX V/T ACT/CIRC-B1 (Exhaust valve control solenoid circuit bank 1) An improper voltage is sent to the ECM through exhaust v ...
Diagnosis system (ipdm e/r) (without intelligent key system)
Diagnosis Description AUTO ACTIVE TEST Description In auto active test, the IPDM E/R sends a drive signal to the following systems to check their operation. Front wiper (LO, HI) Parking lamp License plate lamp Tail lamp Front fog lamp (if equipped) Headlamp (LO, HI) A/C compres ...
Cleaning exterior
In order to maintain the appearance of your vehicle, it is important to take proper care of it. To protect the paint surfaces, please wash your vehicle as soon as you can: after a rainfall to prevent possible damage from acid rain. after driving on coastal roads. when contaminants suc ...
В© 2014-2022 Copyright www.nisentra.com