Nissan Sentra Service Manual: Exhaust manifold
Exploded View
CALIFORNIA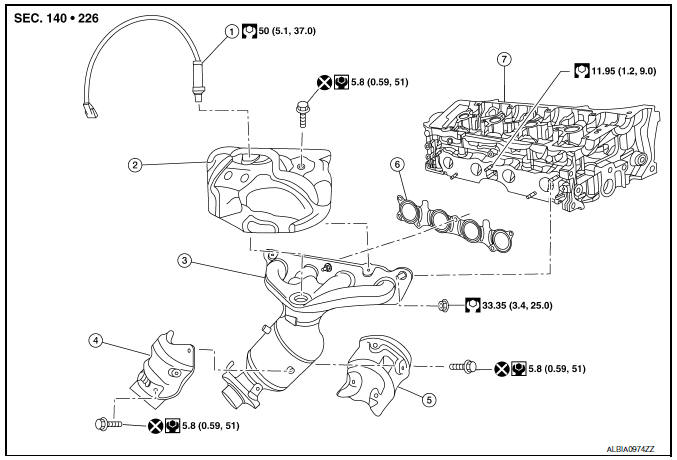 Air fuel ratio sensor
Exhaust manifold heat shield (upper)
Exhaust manifold and three way catalyst
Exhaust manifold heat shield (rear)
Exhaust manifold heat shield (front)
Exhaust manifold gasket
Cylinder head
EXCEPT CALIFORNIA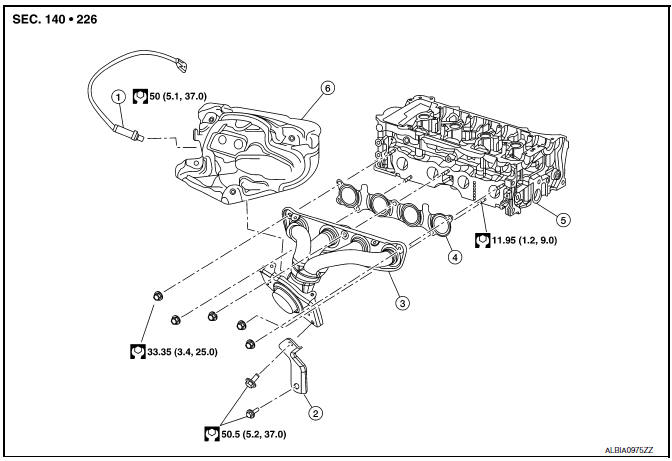 Air fuel ratio sensor
Bracket
Exhaust manifold
Exhaust manifold gasket
Cylinder head
Exhaust manifold heat shield
Removal and Installation
REMOVAL
Remove the cowl top. Refer to EXT-25, "Exploded View".
Remove front exhaust tube. Refer to EX-5, "Exploded View".
Disconnect air fuel ratio sensor harness connector and remove air fuel ratio sensor if necessary.
Remove exhaust manifold cover.
Remove exhaust manifold.
Loosen nuts in reverse order as shown.
NOTE:
Disregard the numerical order No. 6-8 in removal.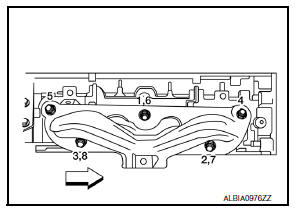 Remove exhaust manifold gasket.
CAUTION:
Cover engine openings to avoid entry of foreign materials.
INSTALLATION
Install exhaust manifold gasket (1) to cylinder head as shown.
CAUTION:
Do not reuse exhaust manifold gasket (1).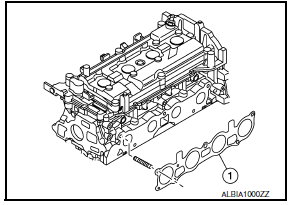 Install exhaust manifold with the following procedure:
Tighten nuts in numerical order as shown.
NOTE:
Tighten nuts the No.1-3 in two steps.
The numerical order No.6-8 shows the second step.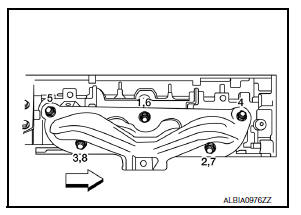 Installation of remaining components is in the reverse order of removal.
Inspection
INSPECTION AFTER REMOVAL
Surface Distortion
Using feeler gauge (A) and straightedge (B), check the surface distortion of exhaust manifold mating surface in each exhaust port and entire part.
Limit : Refer to EM-119, "Exhaust Manifold".
If it exceeds the limit, replace exhaust manifold.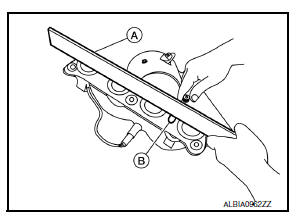 Exploded View Clamp PCV hose Bracket Intake manifold gasket Intake manifold Mount rubber Clamp EVAP hose EVAP canister purge volume control solenoid valve Electric throttl ...
Exploded View O-ring Oil pan (upper) Oil level gauge guide O-ring Oil level gauge Oil pump drive chain Crankshaft sprocket Oil pump sprocket Oil pump chain tensioner Oil pump ...
Other materials:
System
System Diagram System Description FRONT WIPER CONTROL (BASIC) BCM detects the combination switch position by the combination switch reading function. BCM transmits the front wiper request signal to the IPDM E/R using CAN communication. IPDM E/R controls the integrated front wipe ...
System
Warning chime system Warning chime system : system diagram Warning chime system : system description Description The buzzer for warning chime system is installed in the combination meter. The buzzer sounds when the combination meter receives a buzzer output signal from the bcm. Th ...
Rear disc brake
Brake Burnishing CAUTION: Burnish contact surfaces between brake pads and disc rotor according to the following procedure after refinishing the disc rotor, replacing brake pads or if a soft pedal occurs at very low mileage. Be careful of vehicle speed. Brakes do not operate firmly/sec ...
В© 2014-2022 Copyright www.nisentra.com