Nissan Sentra Service Manual: Liquid Gasket
REMOVAL OF LIQUID GASKET SEALING
After removing the bolts and nuts, separate the mating surface and remove the liquid gasket using Tool (A).
Tool Number : KV10111100 (J-37228)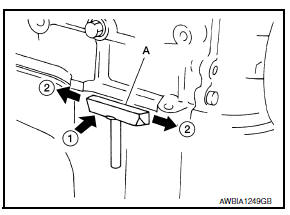 CAUTION:
Be careful not to damage the mating surfaces.
In areas where the cutter is difficult to use, use a plastic hammer to lightly tap (1) the cutter where the liquid gasket is applied. Use a plastic hammer to slide (2) the cutter by tapping on the side.
CAUTION:
Do not damage the mating surfaces.
LIQUID GASKET APPLICATION PROCEDURE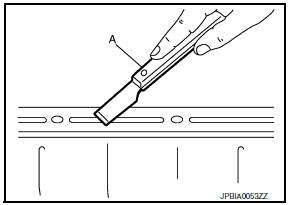 Using suitable tool (A), remove old liquid gasket adhering to the liquid gasket application surface and the mating surface.
Remove liquid gasket completely from the groove of the liquid gasket application surface, mounting bolts, and bolt holes.
Wipe the liquid gasket application surface and the mating surface with white gasoline (lighting and heating use) to remove adhering moisture, grease and foreign materials.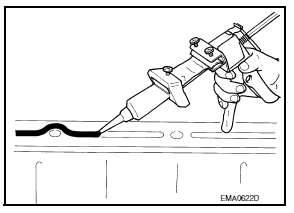 Attach liquid gasket tube to the suitable tool.

Use Genuine Silicone RTV Sealant, or equivalent. Refer to GI-21, "Recommended Chemical Products and Sealants".

Apply liquid gasket without gaps to the specified location according to the specified dimensions.
If there is a groove for liquid gasket application, apply liquid gasket to the groove.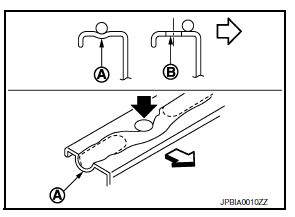 (A) : Groov

Inside
Within five minutes of liquid gasket application, install the mating component.
If liquid gasket protrudes, wipe it off immediately.
Do not retighten mounting bolts or nuts after the installation.
After 30 minutes or more have passed from the installation, fill engine oil and engine coolant.
CAUTION:
If there are specific instructions in the procedures contained in this manual concerning liquid gasket application, observe them.
Use the Tool for the final tightening of the following engine parts: Tool number : KV10112100 (BT-8653-A) Camshaft sprocket (INT) bolt Cylinder head bolts Main bearing cap bolts Connec ...
Other materials:
Recommended chemical products and sealants
Refer to the following chart for help in selecting the appropriate chemical product or sealant. Product Description Purpose Nissan North America Part No. (USA) Nissan Canada Part No. (Canada) Aftermarket Crossreference Part Nos. 1 Rear View Mirror ...
Waxing
Regular waxing protects the paint surface and helps retain new vehicle appearance. Polishing is recommended to remove built-up wax residue and to avoid a weathered appearance before re-applying wax. A NISSAN dealer can assist you in choosing the proper product. Wax your vehicle only afte ...
Glass lid
Exploded view Glass lid Roof panel Front Removal and installation Removal Caution: After installing glass lid, check gap/height adjustments and operation to make sure there is no malfunction. Handle glass lid with care to prevent damage. Open sunshade (1), then close ...
В© 2014-2023 Copyright www.nisentra.com