Nissan Sentra Service Manual: Liquid Gasket
REMOVAL OF LIQUID GASKET SEALING
After removing the bolts and nuts, separate the mating surface and remove the liquid gasket using Tool (A).
Tool Number : KV10111100 (J-37228)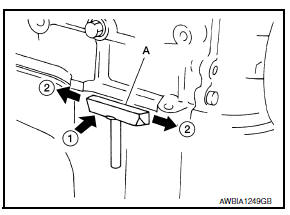 CAUTION:
Be careful not to damage the mating surfaces.
In areas where the cutter is difficult to use, use a plastic hammer to lightly tap (1) the cutter where the liquid gasket is applied. Use a plastic hammer to slide (2) the cutter by tapping on the side.
CAUTION:
Do not damage the mating surfaces.
LIQUID GASKET APPLICATION PROCEDURE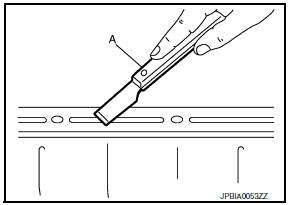 Using suitable tool (A), remove old liquid gasket adhering to the liquid gasket application surface and the mating surface.
Remove liquid gasket completely from the groove of the liquid gasket application surface, mounting bolts, and bolt holes.
Wipe the liquid gasket application surface and the mating surface with white gasoline (lighting and heating use) to remove adhering moisture, grease and foreign materials.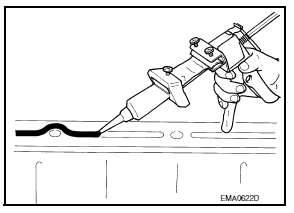 Attach liquid gasket tube to the suitable tool.

Use Genuine Silicone RTV Sealant, or equivalent. Refer to GI-21, "Recommended Chemical Products and Sealants".

Apply liquid gasket without gaps to the specified location according to the specified dimensions.
If there is a groove for liquid gasket application, apply liquid gasket to the groove.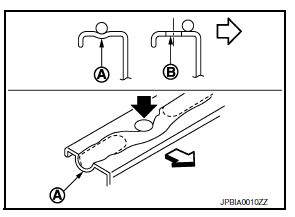 (A) : Groov

Inside
Within five minutes of liquid gasket application, install the mating component.
If liquid gasket protrudes, wipe it off immediately.
Do not retighten mounting bolts or nuts after the installation.
After 30 minutes or more have passed from the installation, fill engine oil and engine coolant.
CAUTION:
If there are specific instructions in the procedures contained in this manual concerning liquid gasket application, observe them.
Use the Tool for the final tightening of the following engine parts: Tool number : KV10112100 (BT-8653-A) Camshaft sprocket (INT) bolt Cylinder head bolts Main bearing cap bolts Connec ...
Other materials:
P099C Shift solenoid G
DTC Logic DTC CONSULT screen terms (Trouble diagnosis content) DTC detection condition Possible causes P099C SHIFT SOLENOID G (Shift Solenoid G Control Circuit High) The TCM high clutch & reverse brake solenoid valve current monitor reading is 200 mA ...
Rear combination lamp
Exploded View Rear combination lamp Rear turn signal lamp bulb Rear turn signal lamp socket LED lamp harness connector Rear combination lamp harness connector Back-up lamp bulb socket Back-up lamp bulb Disassembly and Assembly DISASSEMBLY WARNING: Do not touch bulb whil ...
Precaution for Work
When removing or disassembling each component, be careful not to damage or deform it. If a component may be subject to interference, be sure to protect it with a shop cloth. When removing (disengaging) components with a screwdriver or similar tool, be sure to wrap the component with a ...
В© 2014-2022 Copyright www.nisentra.com